It came as a pleasant surprise to experience first-hand that downtown Hartford, Connecticut is ideally compact. This small, robust area is jam-packed with both for-adults and family-friendly entertainment. Have a good time with Broadway-worthy musicals, Latin jazz, funk, sketch comedy, silent discos, film screenings, fashion shows, dance, and more.
Downtown Hartford is roughly seven blocks running east and west and eight blocks going north and south. From any given location, entertainment is only a 5-minute walk away. In some instances, it's located right inside your hotel.
Saturday Night Live is a prominent sketch comedy television show. Whose Line is it Anyway? is a fan-favorite improv TV show. Head to the Sea Tea Comedy Theater for improv, sketch comedy, or stand-up comedy. Do you love a good murder mystery? Improv actors take their skills on the road for a special "Who done it?" series. You're sure to have a good time - they do!
Sea Tea Comedy Theater features over one hundred creative actors from New York, Massachusetts, and Connecticut. Guests will see funny, funnier, and the funniest from one night to the next. Each improv show consists of three teams that take turns.
Up-coming performances include stand-up comedy and an appearance by Kevin McDonald of Kids in the Hall. Family-friendly shows run on Sundays. There's no age minimum for evening performances. However, there may be adult themes and curse words. Tickets range from $5-20.
The cozy theater, located one floor below street level, seats approximately fifty people. An elevator is available for those unable to use stairs. Call the theater and ask for details. The snack bar serves beer, wine, soda, hot tea, bottled water, candy, and chips.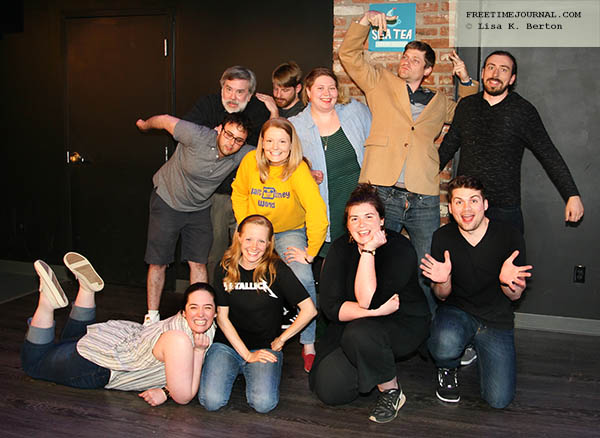 Black-Eyed Sally's is a hot spot for southern style cooking and live music. Song styles include jazz, rhythm and blues, swing, and good ole rock 'n roll. Sit anywhere in the restaurant or at the bar, and you'll see Caribbean-colored wall art and musician portraits. The combination of food, music, and decor will make you forget that you're in Connecticut, not Louisiana.
Three rooms and a two-sided bar comprise the restaurant. Regardless of the seating location, if there is a guitarist rocking chords, it can be heard. For the full-fledged experience, request to be seated in the room with the stage.
Only patrons who want to watch the band are subject to paying a cover charge. The money goes directly to the performers. We recommend calling ahead to ask what the cover charge is. Some shows are free of charge.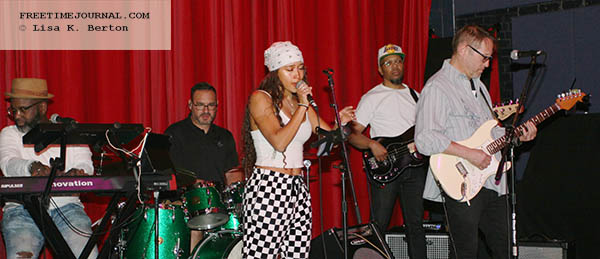 In what looks like the living room of a late 1800's explorer, the public settles in for an evening of live music at Bar Piña. On this particular Saturday, Ed Fast and Congabop with vocalist Yolanda Coggins had the floor. The band's Latin jazz numbers make you wish there was more floor space for dancing.
With a spirit in-hand and a wild mushrooms appetizer on the leather couch, the gentleman seated across from me nodded along to the percussion beat. My late-night dinner was four mighty beef sliders on thick, crunchy bread.
Entry to Bar Piña is via The Goodwin Hotel. Additional seating is available in the adjacent room when the various couches and fullback chairs are taken.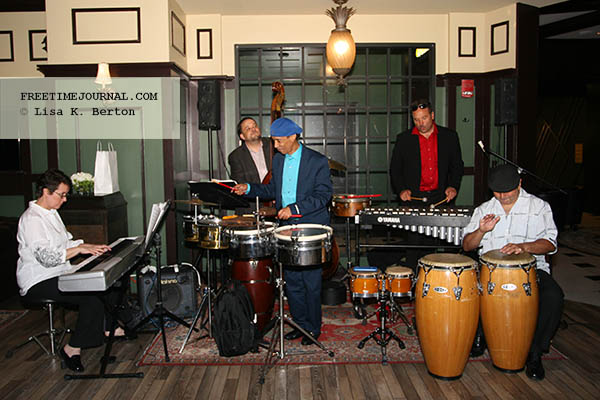 Turn to Hartford Public Library for a calendar filled with delightful activities for kids, teens, and adults. From storytelling to poetry readings to fashion shows and beyond, don't overlook this little-known treasure.
During summer months, music-makers perform free sets outdoors on Thursdays and Fridays at Pratt Street Patio. The brick-lined one-way street is pedestrian-friendly during concerts. Pratt Street is between Main Street and Trumbull Street.
Experience artistry in multiple forms at Wadsworth Atheneum Museum of Art. Singer-songwriters play, and film screenings project on select nights. Partake in a leisurely brunch while jazz musicians entertain you. Check event listings for Hartford Symphony and Hartford Gay Men's Chorus performances.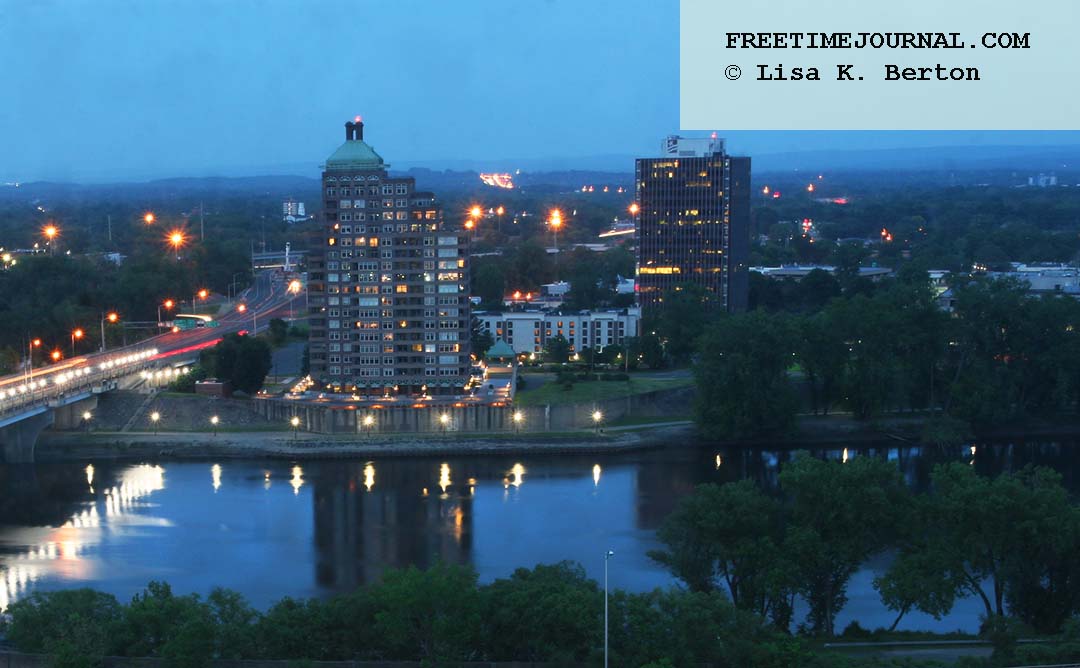 A spectacular view of the Connecticut River and East Hartford from the concierge level at Hartford Marriott Downtown. Grab some nibbles and a drink from the lounge. Then get ready for a night on the town.
The mostly under-35 crowd can be spotted wearing glowing neon headphones during Silent Disco nights at The Press Hartford.  Guests are loaned a set of headphones equipped to change stations with a small lever on one ear. Each of the three DJs is on a different station, playing a pre-determined music genre. Headphones change color along with the station.
In addition to listening to Afrobeats, Caribbean, and American music, the people-watching is quite fascinating. Remove your headphones and hear them sing or rap along to whatever is playing. You'll even be able to hold a conversation without yelling.
The Press Hartford hosts other free with RSVP and budget-friendly events throughout the year as well. Stop by during the evening for dinner or on Sunday for brunch. Then return for a party atmosphere.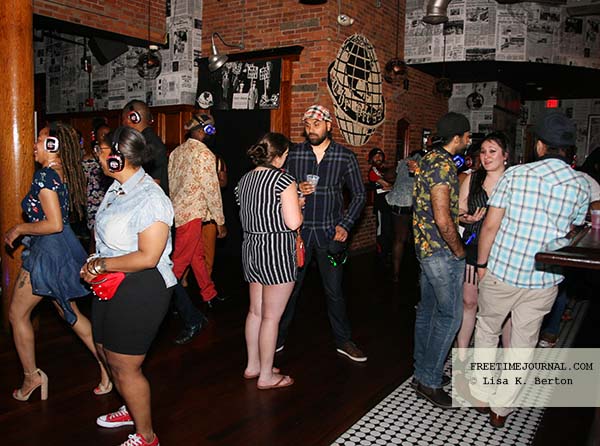 Live theater productions make for a great date night or family treat. Hartford Stage is a multi-award winning regional theater that regularly seats five hundred fans per presentation. A ten-person orchestra provides emotional scores. Most of the talented musicians play at least two instruments. 
Their season (September through May) consists of six plays and A Christmas Carol, which runs for four weeks. This past spring, Hartford Stage premiered the musical The Flamingo Kid, based on the 1984 movie that starred Matt Dillon. It was an amazing show that breathed new life into all of the secondary characters. It belongs on Broadway next.
Hartford Stage draws recognizable actors from television, theater, and movies as well as new talent. Emilio Delgado, best known for playing Luis on Sesame Street for over 40 years just starred in Quixote Nuevo. And Ben Fankhauser from Disney's Newsies the Broadway Musical co-starred in The Flamingo Kid.
Dressing rooms were a part of my private after-show tour. Compared to some well-known theaters in Boston and Los Angeles, the actors have much nicer dressing rooms in Hartford. Everyone involved has a nice lounge and kitchen to relax in between shows.
Tickets prices vary. Season subscriptions are available. Beverages and snacks are sold at the concession stand and souvenirs are available near the entrance.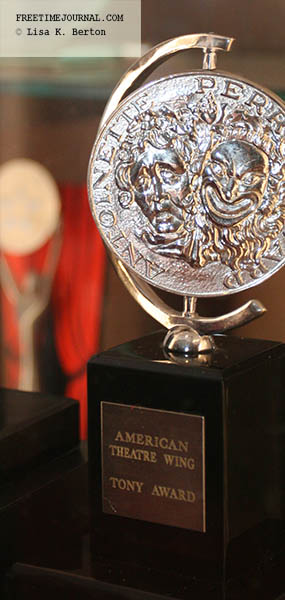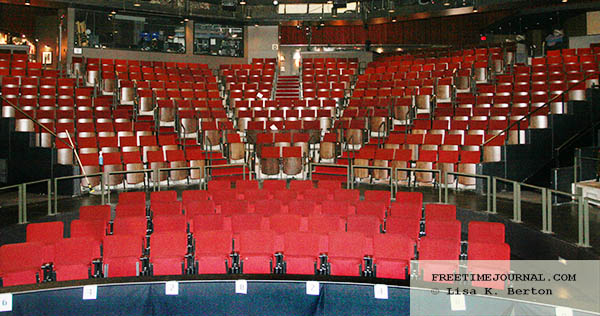 Hartford is a perfect alternative to New York City in regards to ease of getting around. Prices are generally lower on hotel rooms, restaurants, clubs, and shows, too. Places like The Press Hartford keep the music playing late into the night. Time your trip to include a festival for an extra good time. The slogan is right, Hartford has it.
Disclaimer: Free Time Journal received complimentary media tickets to performances at Hartford Stage, Sea Tea Comedy Theater, Black Eyed Sally's, and The Press. Hartford Marriott Downtown upgraded the room to concierge level. Reviews are not affected.