As someone who has visited Foxwoods Resort Casino (Mashantucket, CT) on and off for decades, one would think I knew my way around. I didn't. At least not until recently when I spent more than 24 hours on the property, walking, shopping, dining, chatting, and making mental notes.  The resort has grown over the years, adding a mall and a new(er) building including a hotel and ballrooms.
For this visit, I chose to stay at the Grand Pequot Tower which is centered between The Fox Tower and Great Cedar Hotel. My deluxe room with a king bed was clean, in very good condition, and had the thermostat set to fan and 71° upon entering. If you enjoy soaking tubs, look no further. A grab bar came in handy when climbing into the tub to take a shower. The only thing missing in the bathroom was a towel bar and conveniently placed toilet paper. Hotel guests have access to an indoor pool. Bring your room key for entry. Towels are provided.
From the Grand Pequot Tower lobby, guests can take an elevator or escalator to a mezzanine level or the main floor. On the mezzanine level sit restaurants and a bowling alley/lounge. Continue up to the main floor by elevator and you'll face the casino. Arrive by escalator and you'll face shops. Let's say we took the elevator from the ground up. Walk straight through the casino and you'll face Guy Fieri's and Stage Deli with an entrance to Tanger Outlets on your left. One of the quieter and smoke-free sections of Foxwoods is Tanger Outlets. Stroll through the white-walled, natural light-filled mall and come out the other end, in The Fox Tower. Along the way, you'll pass shoes, clothing, kitchen gadgets, toys, and a secret stash for fans of Disneyland and Walt Disney World. Enter Barker Animation Art Galleries and Collectibles, head to the back of the store and discover hats, shirts, bags, and more at prices so low, you'll think they fell off the back of a Disney's Magical Express bus.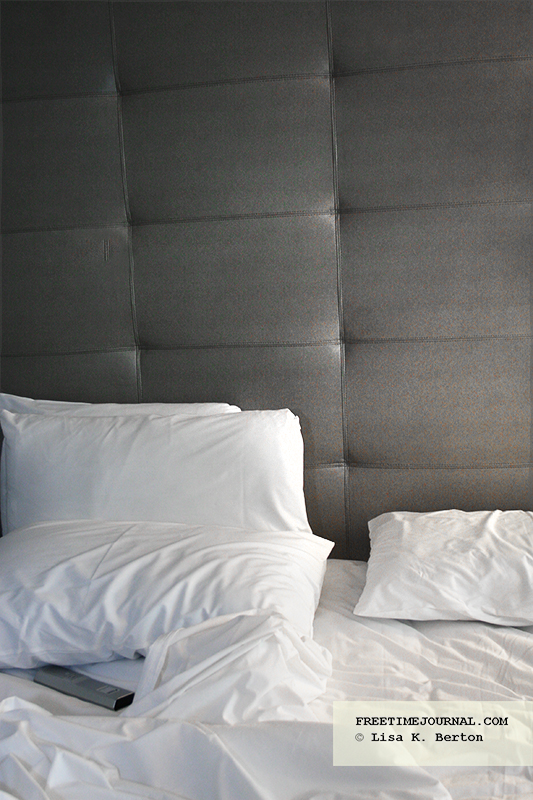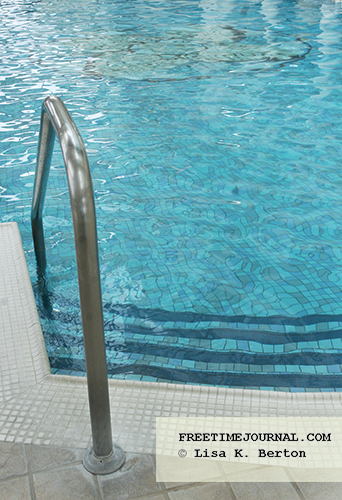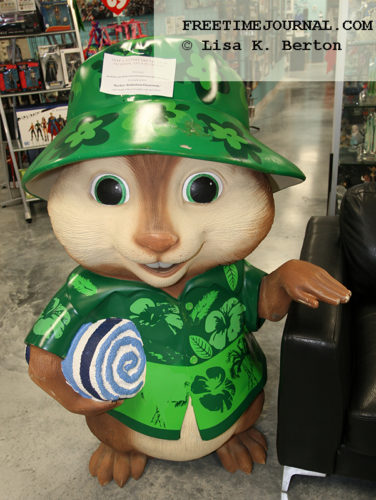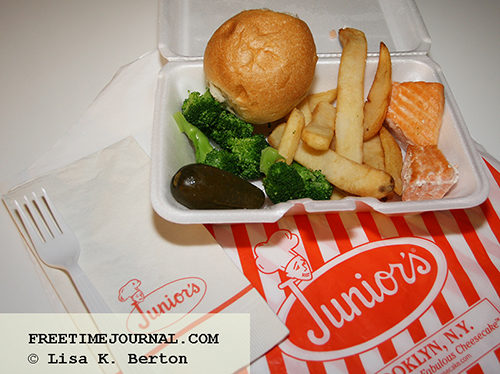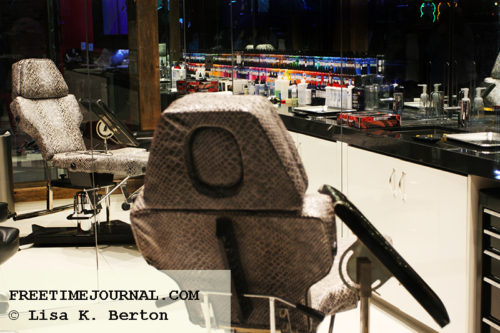 Surrounding a plethora of slot machines in The Fox Tower Casino I saw more clothing options, a candy shop, The Food Market (food court), and King Ink - a tattoo parlor/clothing store. The gentlemen there assured me they do not conduct business with anyone who appears to be under the influence. Good call.
Head toward the check-in desk and you'll find Junior's, a full-service restaurant known for its cheesecakes. They took great care of working with my food allergies and dietary restrictions. A bit of a splurge for me at $28.95 for salmon, the upside was I had enough leftovers for a second meal, making it seem like I had spent about $14.50 on each; at least that's what I told myself.
To get back to The Grand Pequot Tower, you can also go by way of the escalator near the Grand Theater and onto a moving sidewalk. This walkway leads you to some of the higher-end merchants like Bvlgari, Chopard, and Omega.
After relaxing in my room for a bit, I made my way down to the casino floor, cutting through the rooms and over to the Bingo Skyway (built into the Bingo Skyway design are seats, some with electrical outlets), past Festival Buffet and landing at Hard Rock Cafe. It's a Wednesday night and the Hard Rock Cafe is hosting acoustic karaoke.  If you're so inclined to give it a whirl, lyrics are provided without bouncing ball guidance, and guitarist Mark Beauchemin will accompany you.  Choose songs by Bon Jovi, Pat Benatar, Elvis Presley, Rolling Stones, U2, Adele, The Cure, Journey, Michael Jackson, The Beatles, Fleetwood Mac, and others.
"Walking up to the mic was thrilling and terrifying all at once. But as soon as Mark started playing, gave me a reassuring smile and my cue to start I knew it was now or never and now was what it would be. It felt like I was riding a bike again. I looked at my friends working the bar and my manager smiling making me smile back thinking to myself,  I've missed this and can't wait to do it again." - Leah Sanborn, Hard Rock Cafe employee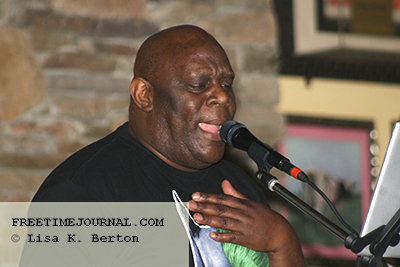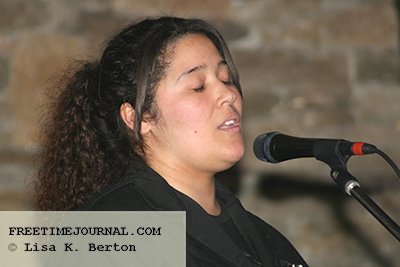 Waking up from a good night's rest, I did some work for this article and ate snacks I'd brought with me for breakfast. Check out is at 11 am at all of Foxwoods' hotels. The process was quick as no one else was waiting. You can leave your luggage to be stored while you gamble.
I missed my chance to play bingo in the morning and settled for some window shopping and whatever came my way. Walking the Pequot Trail this time took me past more shops and restaurants, the FOX Theater, another food court and over to the Rainmaker Casino where smoking is not allowed. The Wonder Woman game was fun although I didn't make enough money to retire. Into the second room, I sat at a game with a mad scientist-like cartoon who paid out better. Still, no early retirement.
I stopped by the Hard Rock Cafe to meet the manager, Mark. Everyone I met, on both days were friendly, professional, and sociable. After lunch, I picked up treats at Fay Da Bakery and Cakes by Franck. Having never been to Sugar Factory before, I sat down for dessert. When someone came out of the kitchen, heads turned and cell phones popped up like paparazzi. Food is visual and quite the sight.
I bid adieu to Foxwoods for the time being and tipped the valet for bringing me my car. Next time, I'll know how to get around like the back of my hand.
Disclaimer: I paid a discounted media rate for a one night stay and received a complimentary meal at Hard Rock Cafe. Neither affected this review.