By Lisa K. Berton
Translucent orange flames flicker inside a rectangular gas fireplace warming up couples sitting under a cold winter sky. Multi-directional strings of purple lights hang above navy blue and white striped rattan seating and tables. Hilton Mystic's outdoor courtyard is one of several spots to cuddle with a loved one, enjoy a drink, or catch up on reading. The hotel is across the street from Mystic Aquarium and Olde Mystic Village. Take a break from shopping or sharks and unwind in your room or the lounge.
The hotel was remodeled a few years ago and reflects it's proximity to the coast, sailors, and the Mystic River Bascule Bridge. Sit back and unwind in any of the various sofas, soft loveseats, and cushy oversized chairs just off the lobby.
Bonus seating: between The IRONS restaurant and banquet rooms is a large leather square bench built into the wall.
Overnight guests will enjoy a restful night's sleep while their electronic devices energize from the charging station. Ease into the morning with breakfast in bed. Got leftovers?  A microwave, mini-fridge, and coffee maker always come in handy. Care for room service? By all means, call in the morning, and your order will be delivered lickety-split.
Bonus feature: the closet light turns on when you open the doors.
Spread out your cosmetics and toiletries on the bathroom counter under a 54" mirror. Lucite green bathroom accessories are a welcome hue. A handy grab bar is near the toilet. No need to worry about difficulty climbing into the bathtub - the side is just 13" high.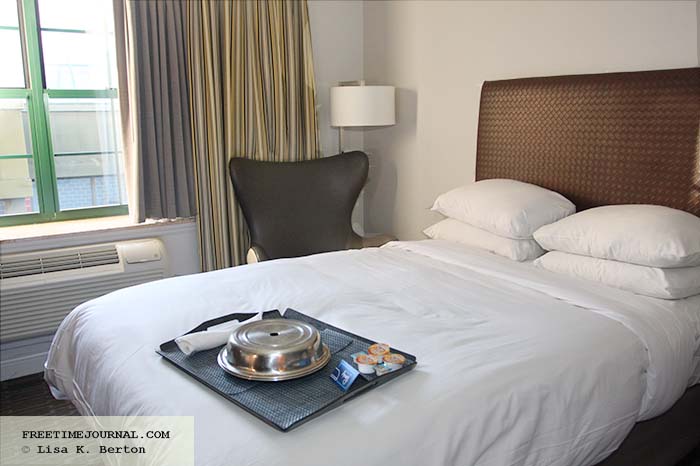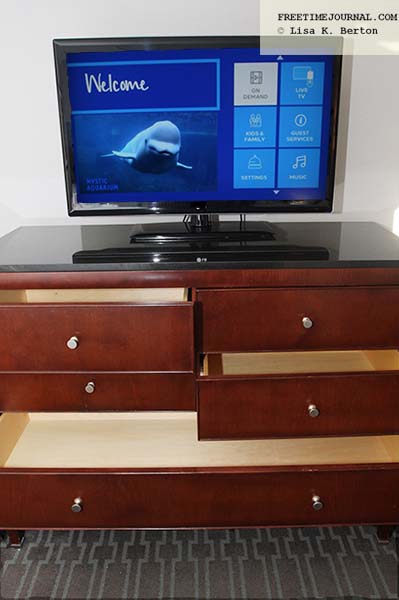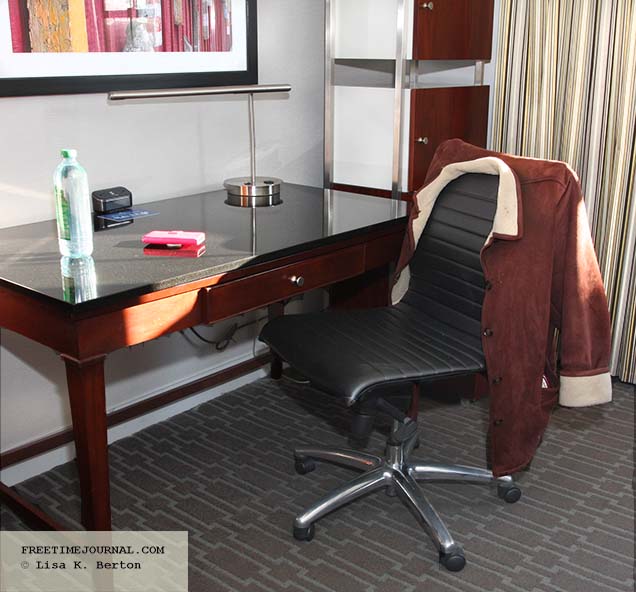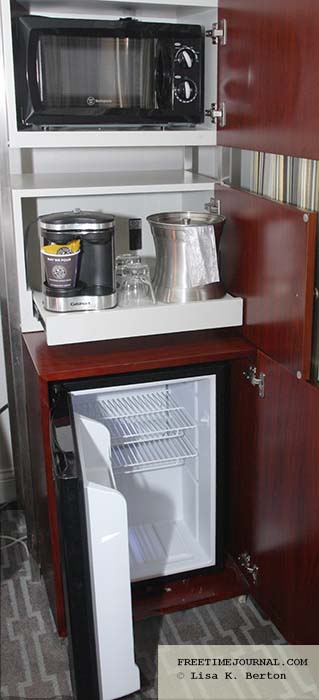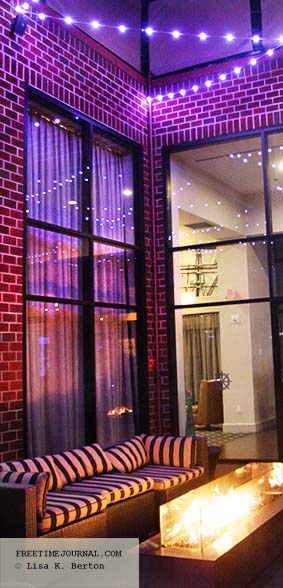 Located just off the lobby and outdoor courtyard is The IRONS, Hilton Mystic's full-service restaurant and bar. Breakfast, lunch, and dinner are served daily. Look for gameday, holiday, and any-old-kind-of-day, daily specials. Don't be surprised to find local musicians performing.
My three experiences with The IRONS were all quite different. First, I had an early dinner on a quiet evening; I was seated at a well-padded, snug booth. My food tasted strange. I told the server about my concern but, she didn't return to check on me. I shouldn't have eaten the spinach, and we'll leave it at that. The crispy skin salmon with wilted spinach was priced at $23.00. I have food allergies and was offered something in place of the whipped sweet potato but did not receive it.
The next morning I had plain French toast delivered via room service. It was delivered quickly by a helpful and sympathetic woman. The food was hot and made perfectly. I believe it cost $10 plus tip.
I spoke with a manager about my previous night's experience. She was deeply apologetic and was going to look into the problem.
On the last morning of my stay, I had breakfast while sitting at the bar. The place was packed, but my server was excellent and checked on me continuously. I over-ordered to have leftovers. A glass of skim milk, blueberry pancakes, and an omelet with fruit cup, and an English muffin cost $27.00 before tax and tip.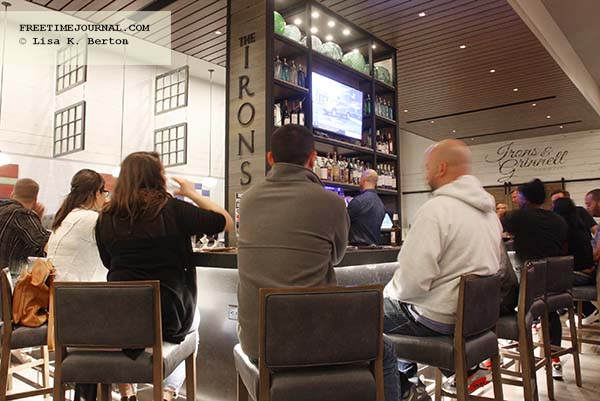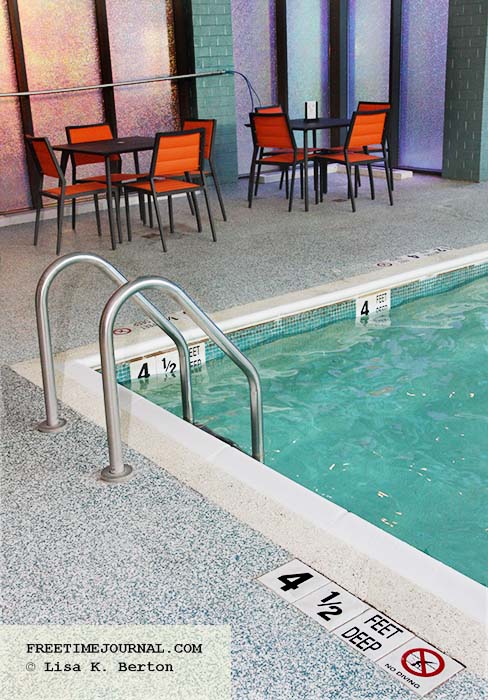 On a cold or rainy day, warm up with a dip in the indoor heated pool. Not a swimmer? Lay down on a lounge chair and just enjoy the mild humidity. It's just the right temperature to lull you to sleep. Prefer to exercise in a gym? One is provided complete with weights, cardiovascular machines, and medicine balls.
Parking is free and spaces are plentiful. Luggage carts are available to borrow. There's a small gift shop with minimal snack and drink options. I found the entire hotel, grounds, and room to be clean and in excellent condition.
If you plan to visit Foxwoods Casino or Mohegan Sun Casino, ask at the front desk about paid shuttle service.
Hilton Mystic
20 Coogan Blvd, Mystic, CT 06355
(860) 572-0731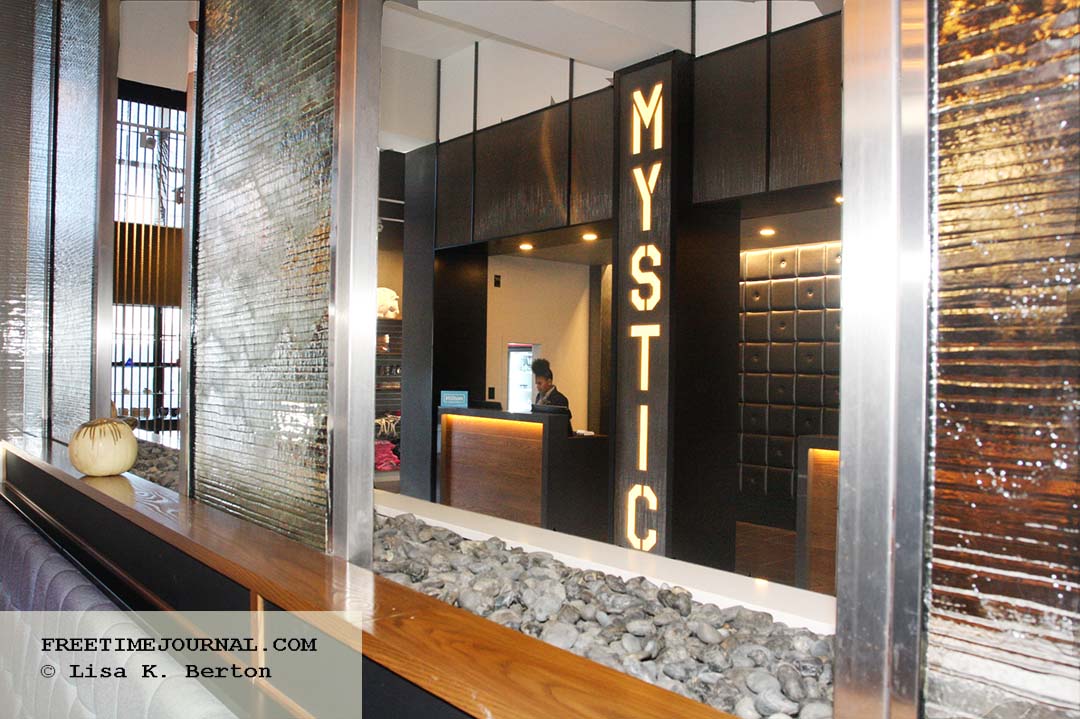 Disclaimer: Free Time Journal received complimentary accommodations and meal vouchers. This review was not affected.